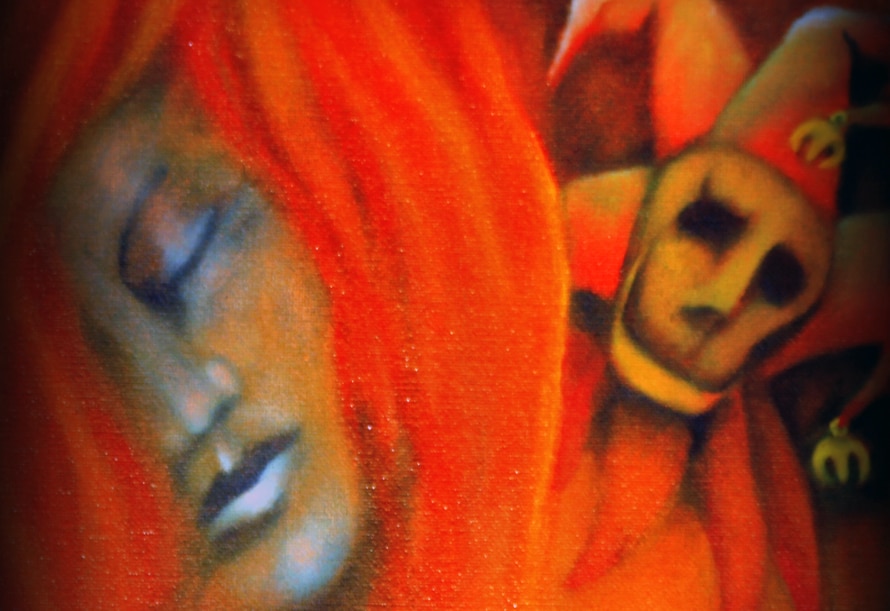 Temptation, Let Me Talk Over Your Left Shoulder
---
Temptation, Let Me Talk Over Your Left Shoulder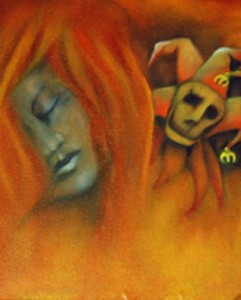 Temptation Let Me Talk Over Your Left Shoulder, Oil on canvas, 11 inches by 14 inches, 2010
Be aware it is from over the young woman's left shoulder that temptation speaks.
Inspired and dedicated to the memory of Belgian painter Felicien Rops, 1833-1898
Purchase this original painting from Saatchi Art
Felicien Rops
Félicien Rops, born in 1833 to a bourgeois family in Namur, Belgium, was one of the country's most successful and influential artists to emerge during the nineteenth century. Lauded by Baudelaire as the greatest Belgian artist of his time,1 Rops achieved international acclaim as a designer and printmaker, founding journals and artist societies, frequently collaborating with contemporaries, and broadly experimenting with printmaking techniques.

Rops received excellent schooling in both visual and literary arts through private tutoring and attendance at Notre Dame de la Paix de Namur, the Athénée Royal de Namur, and the Académie de Namur.2 In 1851 he enrolled at the Université Libre de Bruxelles, where he developed influential artistic, social, and political networks. He married Charlotte Polet de Faveaux soon after university but as a young man left his wife and son in Belgium to live the rest of his life with Aurélie and Léontine Duluc, two sisters who ran a fashion house in Paris. He fathered a daughter, Claire, with Léontine; Claire would later bequeath a large collection of Rops's original plates and prints to the Royal Library of Belgium. Rops died in 1898 in Essonne, just outside of Paris, surrounded by the Duluc sisters, his daughter, and friends.
From BEYOND EROS: WORKS BY FÉLICIEN ROPS IN THE MICHAEL C. CARLOS MUSEUM
---
---