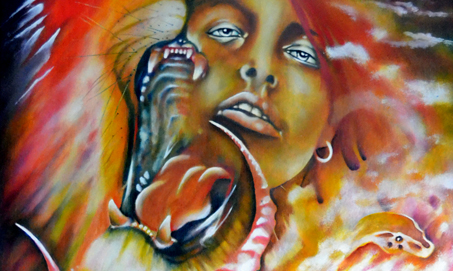 Atavistic Memories or Palimpsest as Symbolic of Reincarnation
Atavistic Memories, oil on wood, 48 inches by 24 inches, 2014, $5000.00
Atavistic depicted in a painting and a brief overview of what atavistic means.
Atavistic Memories depicts, through the medium of symbolic arts, a male human figure in the throes of recalling the tracks of his heritage back to the dawn of time. In displaying numerous characteristics from these epochs, he evokes the behavior and mannerisms of each in the present.  The phenomenon is in harmony with shamanism, psychedelic experiences, creative dreaming and transformational psychology.
Atavistic could be transposed to palimpsest if one wanted to get deeply symbolic and perceive it as an image of reincarnation.
First shown at Doorways to the Underworld exhibition, Stevens Square Center for the Arts, October 25th 2014
For related information see Dream Language
Artists considered influenced by the Symbolist Fin de sicle art movement of France include, Jean Delville, Fernand Knopff, Felicien Rops, Jan Toorop, Puvis de Chavannes, Odilon Redon, Stéphane Mallarmé and Gustave Moreau
---
---